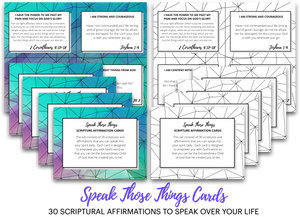 Get closer to where God wants you to be mentally.

In this PRINTABLE Set of 30 Scripture Affirmation Cards you will began to speak God's word into your spirit.
Having the right mindset is the key to your success.  Recognizing who you are in Christ is critical to your victory.

With 30 Scriptures and Affirmations designed to transform you into the Extraordinary Child of God you were created to be, you will be positioning yourself to experience a life filled with joy.

THIS IS A PRINTABLE SET OF SCRIPTURE CARDS. It consists of 8 (8.5x11) pages of scripture cards that can be printed on regular paper or card stock.  The pages can also be laminated.  Each page should be cut along the dividing lines to create your cards.
You are receiving two sets of cards. Both sets contain the same scriptures and affirmations. One set is colored and the other set is black and white.  The black and white set was designed for you to decorate with the colors of your choice, using markers, colored pencils, crayons, paint, or even highlighters.

NO PRODUCT WILL BE SHIPPED TO YOU. Instead you will receive an instant download that you can begin using today!
Be sure to INCLUDE YOUR EMAIL AT CHECKOUT.